Date: October 3rd, 2009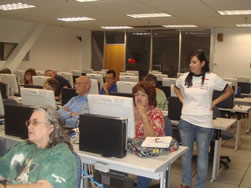 La Familia is designed to break the digital divide in the Hispanic community. This event is hosted by the University of Arizona and carried out by the Society of Hispanic Professional Engineers (SHPE UA). The program aims to expose parents with limited resources to the advances of cyberspace and technology. Perhaps this event only provides a small window to the digital revolution, but it will definitely open their curiosity to venture in this essential way of life. Awareness of computer advances also allows parents to better relate to their children, hence making a stronger "familia." Most of all, it intends to make them realize that despite the fact that they did not have the facilities to learn about technology, they must make every attempt to advance forward in this competitive country.

Parents, mainly of Hispanic heritage, attend workshops and perform hands-on activities. The activities will focus on the productive use of a computer. We hope to let them realize the powerful tool that this device epitomizes. Program facilitators will teach them basic computer skills such as the use of Microsoft programs, Internet, and Email. They will be exposed to simple tasks like using a mouse to more complicated activities such as reading from USBs, installing programs, loading sound from Internet and DVD and, most importantly, familiarize them with the basic components of a computer.


November 20th, 2009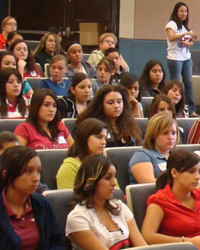 SHPE UA is an organization focused on reaching out to minority students to encourage, guide, and motivate them to pursue careers in science and engineering-related fields. In order to reach out to the community, SHPE/UA organizes events and invites female students of all ages to visit and explore the world of science and engineering. One such event is the annual SHPE/UA Young Latina Forum.
The purpose of this event is to:
1) expose students to the exciting world of science and engineering;
2) motivate and encourage students to stay in school;
3) expose students to the opportunities available through higher education; and
4) motivate students to pursue a college degree in science and engineering.
By sponsoring the Young Latina Forum, SHPE/UA hopes to empower not only Latinas, but to also empower all Hispanics who live in the Tucson area. It is the vision of SHPE/UA to see future Hispanic female doctors, engineers, and professionals across our society.


Date: February 12th, 2010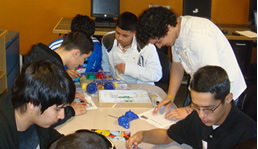 The purpose of ALE is to expose male high school students, grades 10-12, to the university setting and to encourage them to pursue careers in Engineering, Math and Science. This objective is especially important since there is a lack of diversity within the university and corporate setting; more specifically there is a need of Latino engineering students and professionals.

By bringing Latino high school students to the university, SHPE UA will teach them about applying to college, the benefits of pursing a college degree and improving diversity within the Engineering classrooms. Helping to recruit a significant amount of Latino students for this event will better the possibilities for Hispanic student to continue into higher education.

ALE Day is a celebration of diversity through which local corporate representatives and Latino high school students can come together to learn about Engineering, Math and Science, but more importantly, to create a stronger network within our community that will foster greater recruitment and retention of Latino students at the University of Arizona.

The students will participate in workshops that promote the values of creativity, teamwork, and leadership. The students will be exposed to the university and will have one-on-one contact with college students. Tours of the university's engineering buildings and research centers will be included. One of the most important aspects is that the boys will receive incite from professional Latinos.


Date: March 5th, 2010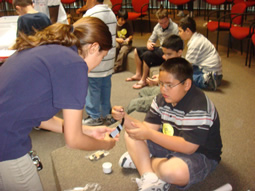 Science day is an event in which SHPE UA helps promote science in our young community. By constantly communicating all the participating or interested elementary schools, we get kids to come to the U of A. So what do we expose these kids to? Science. Every year we create a program that consists on basic but very fun experiments with the purpose to introduce students to the mysteries of science. By interacting on this experiments, students get an opportunity to have fun while learning how the world works. Students are also supplied with meals during this exciting day. All this is possible thanks to our sponsors.
This event is growing and has a great impact in our community. We have appeared and been mentioned in several local newspapers. Also, we are trying our best to reach more and more schools. Just think of the impact you are leaving. The children get inspiration and open their eyes to science. They, in return, will affect the future, so why not teach them something great about their world, our world.


Date: April 1st-4th, 2009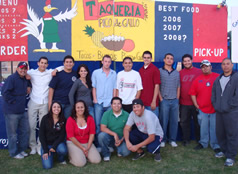 Spring Fling is the largest student-run carnival in the nation. Each year, over 3,000 University of Arizona students volunteer to bring fun and excitement to the Tucson community.
SHPE UA is part of this event and between us, we have greatly contributed to their goals in the past years. In fact, we have recognitions from the Dean's and best booth awards.
In this event leadership and help are needed from our members. To make the best of it, our chapter creates a committee of SHPE members to represent our chapter at ASUA meetings and organize the event.


Date: Throughout The School Year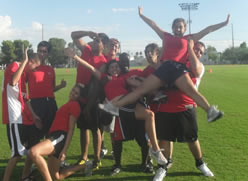 As part of SHPE UA, you have the opportunity to play sports with members of nuestra familia. Each year, sport competitions take place across campus, playing against other clubs and organizations. We play a variety of sports from flag football, soccer, basketball, softball, etc. Just as the U of A seasons change during the year, our sports seasons also change in the year. For example, at the beginning of the year we start with flag football and after playoffs we go on to the next sport.
As a SHPE athlete, you are also eligible to be recognized as a star. Each year, members pick a member who they thing is the best player of the year and he gets awarded at the end of the year banquet that SHPE UA hosts. In addition, playing sports with other members is one of the best ways to create bonds between members, get to know them, and have fun.
Interested in joining our sports? Please speak to any of our E-Board Members!